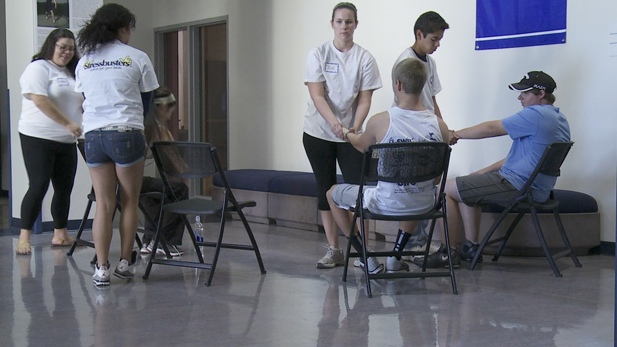 A new group of student volunteers are busting down on stress…one free back-rub at a time.
Stressbusters is a national volunteer program that originated at Colombia University in 1996. This past month, the University of Arizona's Campus Health has created its own chapter of the program for the students and faculty on campus.
The program aims to reduce stress by offering a free, 5-minute backrub to any willing participant. The recently recruited 42 volunteers for the UA's Stressbusters program have all been given basic training in finding physical tension in a person's shoulders, arms, hands and neck.
"The volunteers offer a good service, but there's also an opportunity for personal development," said Lee Ann Hamilton, the assistant director of health promotion at Campus Health.
Close to a year ago, Hamilton had the initiative of bringing the Stressbusters program to the UA. Now, she and her student volunteers can be seen at 2 to 4-weekly events all over campus.
Hamilton said that part of the training for the volunteers involved a critical communication component. The students were instructed how to receive feedback from strangers they're interacting with, as well as how to offer further suggestions for stress-reduction.
One of those suggestions may be to utilize Campus Health's counseling and psych services for further treatment of anxiety and depression.
Hamilton said that she sees the Stressbusters as an opportunity to inform the community of more in-depth techniques for overcoming stress.
The Stressbusters can be requested to deliver their services for any type of event on campus, or people may just stumble upon them at one of their own events sponsored through Campus Health
Producer: Kevin Reagan | Videographer: Eric Rawdin | Editor: Josh Montijo