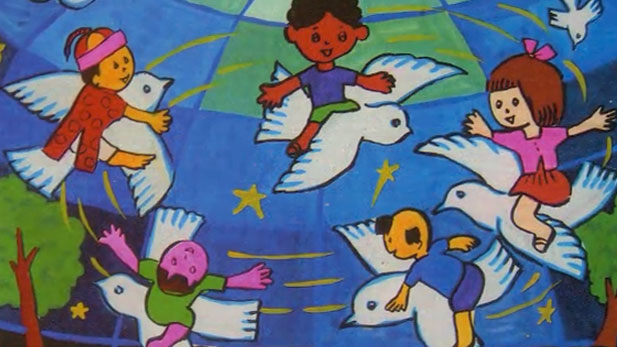 PHOTO: AZPM
American elders, adults and children in Tucson respond to Vietnamese children's paintings on war and peace with their poems and writings.
Speak Peace is a traveling exhibit featuring paintings of war and peace by Vietnamese children. Each painting is accompanied by poems written by Americans, and inspired by the images depicted in the art.
David Hassler, director of the Wick Poetry Center, at Kent State University, organized the project and says the paintings were collected over the last 10 years by the War Remnants Museum in Ho Chi Minh City, Viet Nam.

"Our vision for it was to pair American children's voices, and veteran's and established poet's [voices]," Hassler says. A national call for poems resulted in nearly 1,200 submissions in six months.

The touring exhibit is on display at the UA Poetry Center, and a local non-profit organization used the paintings to organize a writing project for refugees. Marge Pellegrino, director of The Owl and Panther Project, an expressive arts support group that helps refugee families that have relocated to the US, says the paintings resonated with the families.
"At first I was a little nervous," she says. She explains that some people felt uneasy about working with the images depicting war and conflict. "We kind of reminded them that they get to talk back to it, they get to speak peace to those hard images."
Pellegrino says each person chose one image as inspiration for a poem, and a team of volunteers and writers helped with the creative process that culminated with a reading at the poetry center.

"They were really excited about having this opportunity to have their words validated in that way," Pellegrino adds. "It was really a wonderful project for them — people who've experienced war — to be able to speak peace back to those images."
Dillon Mutyaba, from Uganda, says he was young when his family fled to the US, and he doesn't remember many details about the war. However, he says he does understand the need to work for peace and he thinks the Speak Peace writing project was a positive step in that direction.

"Peace really brings us all together," Mutyaba says. "I think it's really important that we get to write about that, share poems about that, and really tell the world what peace really is."
Hassler describes Speak Peace as an attempt to encourage conversations between people that will bridge the cultural gaps that lead to war. "War has a horribly destructive [and] dehumanizing force," Hassler says. "Art is a way to re-humanize our lives, and our connections to each other."