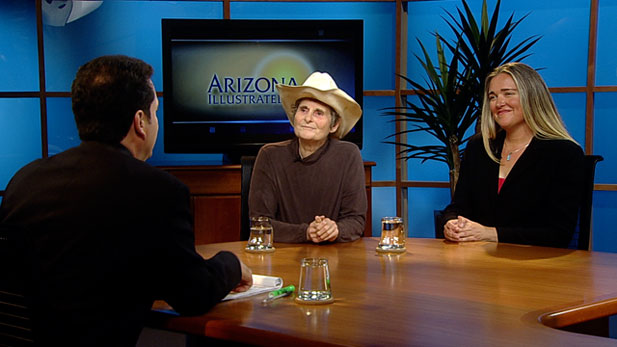 PHOTO: AZPM
Liz Petterson (right), executive director of Arizona Land and Water Trust, discusses the organization's efforts to protect farms and ranches. She is joined by Sarah Barchas, a ranch owner in Sonoita.
Since 1978, the Arizona Land and Water Trust has preserved over 36,000 acres in the state, including grasslands, Sonoran Desert and mountains. Supporters say they use a mix of science, education and collaboration.
Executive Director Liz Petterson recently returned to her native Arizona to lead the group after working in the northeastern United States. She's dealing with ranchers like Sarah Barchas, whose family has been ranching near Sonoita since the 1960s.
Barchas knows she won't be able to continue to manage and visit the ranch as much as she would like, so she is glad she was able to agree to a conservation easement for her property.
Barchas says it's a win-win situation because the land will still be able to be used for ranching in the future, but the easement will protect the property from being split into smaller parcels and sold to multiple owners, a practice that leads to habitat fragmentation for wildlife as well as ranching families and their cattle.
"I was determined that the beautiful land that we love so much, living in harmony with the land and with wildlife, that that land should not be cut up and subdivided," Barchas says.