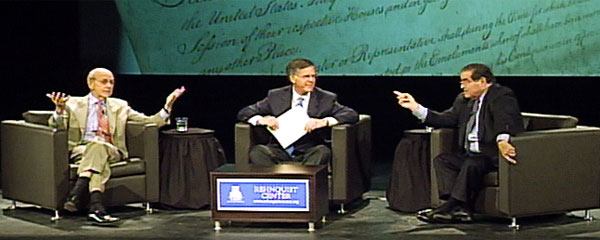 A discussion between Justice Stephen Breyer (left) and Justice Antonin Scalia (right), moderated by Pete Williams, NBC News Justice Correspondent (center).
A Conversation On The Constitution: Principles of Constitutional and Statutory Interpretation was recorded on Monday, Oct. 26th at the Leo Rich Theatre, Tucson Convention Center. The event was sponsored by the Rehnquist Center at the James E. Rogers College of Law.
This Rehnquist Center program was made possible by Mr. Dwight Opperman and media partners, Arizona Attorney Magazine and Arizona Public Media.
What Would the Founders Think? La Monica Everett-Haynes
UANews.org
October 26, 2009